---
Workshop IT Governance
Wisma Makara, University of Indonesia
23-24 December 2006
Depok, December 2006 --
The IT Governance first batch of research started around May or June 2006. At that time, the focus is more on strategy - describing IS/IT strategy using strategy maps. On the onset, the objective of the research was to develop an IT Strategy Maps. We did not know that there is already an IT Strategy Maps, the earliest being the one presented by Kaplan & Norton themselves in 2001 in Strategy Focused Organization. Later on, we also found that in their book Alignment (2006), they again renew their idea of IT Organization Strategy Maps.
While during the research it bothers us a bit (we thought we found something that others haven't), it didn't deter us to advance further. Through rigorous study and team collaboration, at the and of the first batch, we got several findings, among them in brief are:
Describing IT Value Proposition in IT BSC/SM. This is the heart and main purpose why an IS/IT should exist anyway - to show value for the organization.
The use of COBIT 4.0 elements (especially IT process) within the internal perspective of IT BSC/SM
Some modifications of Strategic IT Portfolio (or Strategic Information Capital)
How order winners and order qualifiers are written into the strategy maps
Addition of risk & compliance within the internal perspectives
and some other findings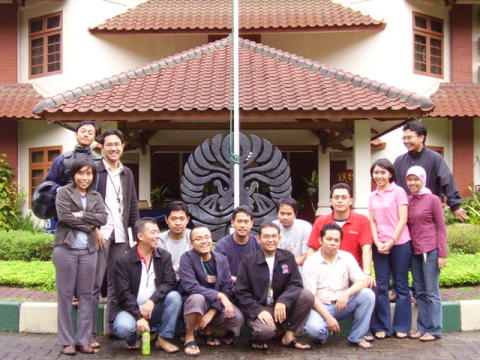 Batch one with batch 2 photo at the front of the university guest house.
Checkout other photos of the workshop...!
---
For More Information Contact:

IT Governance Lab
University of Indonesia
Tel: 021-3106014
FAX: 021-3102774
Internet: amwibowo@cs.ui.ac.id